07 August 2019




Unreleased archive.
Anything You Want (bootleg). 2010




Many people of my generation were in to Hip Hop culture in the early 1980's before later discovering House and Techno. Indeed, some of my friends remain dedicated Hip Hop heads to this day.

Back in 2010 as a tribute to those times, I put together this Hip Hop and Breaks influenced House track that was centred around an old RnB song called 'Heartbeat' by Taana Gardner (also used by T-Ski Valley on Catch The Beat.)

I added a hint of Schooly D, along with a dash of Spoonie G, and added some sample licks that anyone familiar with old school Hip Hop will recognise.

It's hard to believe that it's almost 10 years ago now but you can definitely hear influences of the times in there with wobbling basslines and crazy effects aplenty.

The track was never released for obvious reasons and was originally included in a mix set that was uploaded to this site back in early 2010.

Unfortunately the set seems to have been lost over the intervening years, so if anyone reading this downloaded that set - and still has it - please get in touch!


31 July 2019




New Digital single.
Casey Tucker - Choose Joy.




New laid back Deep Tech groove. A soothing lo-fi piano and deep chords are combined with solid beats, a pounding bass and acidic top end melody.
Available now at the digital store. In high quality MP3 and WAV formats.


25 July 2019




Story of The Waiting Game 2007 remix.
The remix that came out before the original.




Way back in 1996 I wrote a track called The Waiting Game. It was never really intended for release and was just written for my personal collection.

Fast forward to over a decade later to 2007 and the re-launch of Fine Balance Recordings, which if you haven't done so already, you can read about in my recent Blog post series.

I remixed the Waiting Game and gave it a VFT makeover with the intention to make this version more 'electronic' sounding than before, with a livelier bass line and some added 21st century sparkle.

The outcome is the track above, which was one of the first tracks available for sale after the re-launch of Fine Balance and was available in a number of early digital download stores, most of which are no longer about.

When this version of The Waiting Game was released digitally back in 2007, it wasn't titled as a remix because the original was still unreleased and there were no plans to release it.

Fast forward again another decade and the original version finally gets a vinyl release when it is picked up by For Those That Knoe records after the label boss Ben, requested that I send over some old tracks for him to go through and it was one of the tracks he selected.

You can purchase crisp digital copies of both versions of The Waiting Game at the digital store in high quality WAV and MP3 formats.

There are also a couple of copies of the original version on vinyl for sale in the Fine Balance vinyl shop.
10 July 2019






New blog section now live.



New blog section of the site is now live where you can read Fine Balance related news and articles. To kick things off I have written a series of three short articles commemorating my 30 years in music.

In part one I take a look back at my discovery of Acid House music as a 17 year old and my quest to start writing music and acquiring the equipment needed.

In Part two I cover the as of yet untold story of my time at Plus 8 Records in the mid nineties when I made several visits to Detroit and Canada to work with Richie Hawtin and John Acquaviva.

The final part covers the formation of Fine Balance Records from the initial idea in 1994 to the present day and ends with a little speculation on the future of the dance music scene.




06 July 2019




Casey Tucker Live in the mix July 2019.
Brand new and long overdue mix from Casey Tucker.
We hope it was worth the wait! :-)
20th January 2019




VFT live in the mix January 2019.



Celebrating 30 years of Acid House music addiction. If you thought it was a drug - then you wasn't wrong!

It's good to see that the genre which started it all for me, and was the reason I took up production in the first place, is still alive and well three decades on.

And of course like all mixes on this site you'll find a couple of exclusive tracks contained within. So enjoy this selection of 21st century Acid, spanning the last decade from 2009 up to to the present day.


21 October 2018




Casey Tucker live in the mix October 2018.



New mix containing an array of quality underground Techno and Tech House
tracks including exclusive unreleased material that you will not hear anywhere else.
01 May 2018








Casey Tucker live in the mix April 2018.


After a longer than expected winter break, we're finally back once again with a fresh mix.

Apologies for the delay in uploading any new content, it's a been crazy busy 6 months with lots going on behind the scenes which will hopefully start seeing the light of day in the coming weeks and months.

In the meantime sit back and enjoy over an hours worth of underground goodness.
24 April 2017 - Updated 17 Nov 2018






VFT live in the mix in Spring 2017. Now re-mastered and re-uploaded in November 2018. One of our favourite mix sets in recent years, covering various flavours of Techno along with some thought provoking content intertwined with a dash of humour. . . Now with extra bass and clarity.
Merchandise store
now open!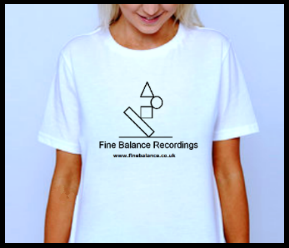 We are pleased to announce that our merchandise store is now live. Check out our brand new line of Fine Balance Tees. Available in 4 different colours. Gotta collect em all! Only 14.99 GBP plus postage
VFT - Observation & Reason
VFT - Dub Weaponry
Title track from the Dub Weaponry EP. Available now at the
Digital Store
.
&copy 2019 Fine Balance Productions