27 August 2023.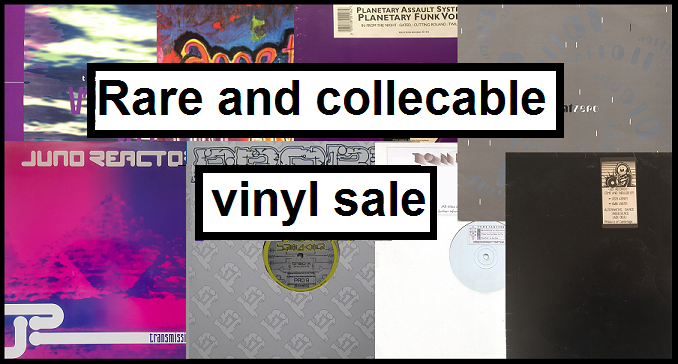 New vinyl Store page now live


Check out the new vinyl store page if you're in the market for some vintage collectable vinyl.

I have decided that the time has come to let go of some of my old records that have been in a collection that spans over 30 years.

I have managed to acquire a significant amount of collectable and sought after records during that time which I now believe deserve a new home.

As I'm selling from this site only I am able to beat most prices on Discogs and the records are priced accordingly. I'm also open to any offers.

All records are all individually priced with the postage fees for each one pre-calculated for all destinations worldwide.

If you have any multiple order requests then please contact us to discuss your requirements.

I have painstakingly inspected and graded all the records and have only selected the ones that I consider worthy of sale.

All of them are in very good condition for their age and they all play with no skips or jumps (apart from when there's occasional dust in the grooves of course!)

At the moment there's a selection of techno, tech house and acid up for sale but I'll be adding some other genres shortly including a bunch of old school rave and break-beat classics that are becoming more sought after as the years go by.

Unfortunately with the UK no longer a European trading partner there may be further charges applicable to non UK orders which will have to be paid by the customer on collection of their order.
10 August 2023.


Rave FM part 2


Back again after another pretty lengthy break for reasons I shall save for an upcoming post. I'll just say that we're living in very interesting times in the music industry and in life in general. Things are not how they used to be.

Speaking of how things used to be I have uploaded the second and final instalment from Peterborough's short lived pirate station Rave FM, featuring the House and Techno resident DJ K9.

This instalment kicks things off with Frankie Bones' paying homage to the Techno sound followed by some unknown track that I've only every heard once, which was on this show.

We then have a couple of Shades Of Rhythm classics before finishing off with more underground Techno of the day.

Although it was fun while it lasted the station was always going to struggle due to a combination of lack of funding and no permanent residence and by the summer of 1990 the station was no more unfortunately.

There were rumours that the local commercial station had become aware of Rave FM's existence and were going to inform the authorities so I guess it was best to quit while you were ahead...

Another reason for the stations demise was the fact that the DJ's were becoming increasingly more busy as the local club and music scene started to grow and they became in demand elsewhere.
08 May 2023.



Peterborough Pirates

Rave FM part 1





While going through the archives here at Fine Balance HQ I stumbled across some rare recordings from back in the day when there was a pirate radio station broadcasting in the area briefly for a few weeks during late 1989 and early 1990.

The station was called Rave FM, broadcasting on the frequency of 105.5. Although it was primarily an underground rave station it played music from across the board with a mixture of early rave, soul and Hip Hop.

Above is a set from DJ K9 playing a selection of early breakbeat and techno recorded live in January 1990 at the start of a new year and a new decade.

Part 2 to follow soon.

The below track list from the show is off the top of my head. I will fill in the blanks as soon as I've got the rest of the titles.

1. Original Video Clash – Lil Louis
2. You Ain't Nobody – Kool Rock Steady
3. For Those Who like To Groove – Twin Hype
4. ???
5. (Still Life) Keeps Moving – Nexus 21
6. ???
7. Depth Charge – Depth Charge
8. The Phantom (It's In There) – Renegade Soundwave
9. ???
10.???

02 January 2023.





VFT live in the mix December 2022



As we bring one year to a close and welcome in a new one, what better way to celebrate than by combining the old with the new?

Introducing the latest live DJ set from yours truly done on the evening of the 30th of December 2022.

This set is in fact more of a reference to the posts I've been making over the past few months that have been documenting the sounds and events of yesteryear.

The mix has an old school theme running through it but the tunes themselves are either brand new or just few years old - along with a couple of exclusive unreleased cuts thrown in for good measure.

Track titles are included in the video. There will more than likely be a part 2 mix at some point so stay tuned as they say. . .
08 December 2022.







Digital Store now re-opened


After an extensive period of downtime the digital store is now open once again. There has been some extensive work done behind the scenes to fix some bugs and issues that were present on the old page.

Hopefully the rebuild will result in a much better and smoother user experience.

Another important change to the store is in how the download files are delivered to the customers. The store now has designated 'opening hours' where someone will be monitoring it and dealing with orders as they come in.

All orders are now being manually processed meaning that there may be a slight delay from when an order is placed to when the download links are sent.

If orders are received during the store opening times then they will be process immediately, or at the latest by the end of the day before the store closes.

If orders are placed outside of the opening times then they will be processed as soon as the store opens the following day.

There are a number of reasons behind the change. Firstly it allows us more control over the pricing and delivery of the downloads and it also gives us more flexibility in the types of products that can be offered.

More importantly, customers will have a more personal and direct link with the label (now that we have removed ourselves from most social media platforms.)

The store only has a few tracks for sale at present but new material will be added regularly.

25 November 2022.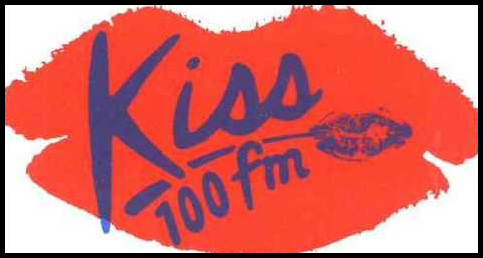 As we continue with the vintage radio broadcasts from the archives, next up is a snippet from Kiss FM back in 1993 featuring the late Colin Favor whose show consisted of a mixture of techno, breakbeat and experimental material.

This segment was recorded back in February 93 while I was staying in London and captures an interesting time in Kiss FM's history.

During this time the station had recently become legal but still had a pirate vibe to it because all the original DJ's were still on board.

Even the included advert has a mixed tone to it as it advertises an event featuring a bunch of underground DJ's but the event itself is sponsored by Holsten Export lager.





Colin Favor recorded February 1993



It wouldn't be too long however before the original DJ's began jumping ship due to the direction that the station was taking under its new owners.

Back in the day many pirate stations aspired to become legal so they could be a legitimate business and not have to worry about being raided by police and receiving hefty fines etc.

But as Kiss FM would go on to demonstrate, going legal came fraught with other problems. Although they no longer had to worry about police raids they were still in effect raided through the back door by the corporations that took them over.

The station would eventually lose all of its original DJ's by the turn of the millennium and its playlists were eventually brought in line with the larger UK commercial radio network.

Today the station exists in name only and although it likes to claim that it was an integral part of the UK's dance music history, any connections with its roots were severed many years ago.




Back in the days. Capturing Kiss broadcasts from afar.


Listening to the old Kiss FM show above brought back memories of when I used to tune into the station back in 1990. Back then Kiss was still a local station broadcasting to just London and the surrounding area.

At the time I was still living at home in Peterborough which is around 70 miles away from north London and was outside of the Kiss FM broadcast area.

I was living in a three storey apartment at the time and my room was on the top floor and was also facing south, meaning that it faced towards London.

I discovered that during the evenings on a clear night if I adjusted the antenna on my hi-fi I could actually get a signal from Kiss FM in London and often it was even clear enough for me to make recordings.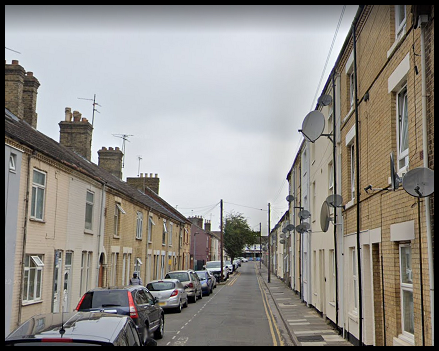 2nd building on the right, top floor. Where I was able to catch signals from Kiss FM back in the day from over 70 miles away. It would have been nice to have had access to one of the many satellite dishes that have since popped up.


It was by this method that I first heard Colin Dale's Abstract Dance show. I will always remember that night in 1990 when I stuck the antenna out of the window and heard a crackly signal coming through for the first time, "Ragga twins deh bout!"

For the next few weeks my mates were amazed at where I was getting these cassettes of brand new Kiss FM shows from. :-)

I wish I still had those original tapes but they unfortunately were lost over time.

17 November 2022.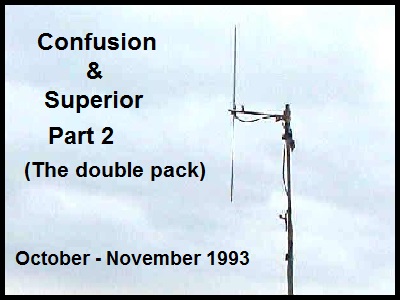 Continuing from last month's post below, as promised I've uploaded a couple more sets from DJ's Superior and Confusion from their show on pulse FM back in 1993.

Show number 1 dates from late October 1993 and starts off on a darker note with some hard industrial type stuff then into some early Basic Channel, who are now regarded by many as the inventors of dub techno, with their rendition of the classic track Lyot by Vainqueur.

The show also features tracks by the likes of DBX, Dave Angel and Plastik Man to name but a few.






Show 1 from 30 October 1993



Next up we have a show that was aired a couple of weeks later on the 13th November 1993. This show features plenty of avant-garde experimental techno along with a sprinkling of early Detroit Electro.





Show 2 recorded 13 November 1993



Featuring offerings from the UK's Peace Frog records along with tracks from Detroit's Alan Oldham (aka X313) and Juan Atkins (Model 500) and also featuring material from Ken Ishi with his unique brand of Japanese techno.

27 October 2022.





I recently did a post remembering 1994 in which I was reminiscing about the pirate radio stations I used to tune into when I was staying in London, namely Pulse FM and DJ's Confusion & Superior, who had a weekly Techno show on the station.

The post was seen by one of the original DJ's from that show who reached out to me and offered to send me a copy of a show from back in the day to upload to this site.

Below is the show that was sent to me dating from December 1992. Many thanks to Paul for sending me the file.





After receiving the above Pulse FM show it got me searching through my own tape collection and I pulled out a few old sets that I recorded from Pulse FM and Kiss 100 FM back in the day (before Kiss became the watered down commercial BS that it is today.)

I'm currently in the process of editing and cleaning up those old recordings and I will be uploading them here in the coming weeks, so please remember to check back for those.
Page 2
The Variable Frequency Technician
Return To Techno EP
limited edition 300 copies




£12.00 plus postage.


Orders from outside the UK might be subject to extra customs charges upon collection.



THC mix part 1. VFT live in the mix April 2017 and celebrating its 6th anniversary this year.

THC mix part 2. Casey Tucker aka VFT live in the mix September 2020.